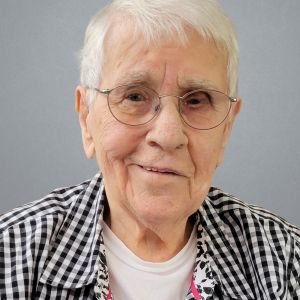 Sister Claudellen Pentecost
Lois A. Pentecost was born on February 13, 1932, to Claude and Ida E. Crowley Pentecost in Lewistown, Montana. Lois was the youngest of 11 siblings, with five brothers and five sisters, and she bragged she had grown up "in one of the best families in the world."
The Sisters of Humility had been in Montana since the early 1900s after they separated from the Sisters of Humility in Iowa. They taught all of the Pentecost children in St. Leo's elementary and high school so, in effect, Lois grew up with them.
It was not until Lois was working alongside the Daughters of Jesus in St. Joseph Hospital that she became interested in becoming a sister. Her mother was "elated" at the prospect, but her father was another story. She set him up for the question by taking him out for supper to a favorite restaurant. They were on their way home when she still had said nothing to him. Pulling into the yard, she burst out, "I want to enter the convent." His answer was a resounding, "NO!" and she knew she would not leave unless he approved. A year or so later, he agreed reluctantly, admitting that having his youngest go off like that was hard. However, by the time he died in 1965, he was fully reconciled after seeing that she was "really happy."
Lois entered the Congregation of the Humility of Mary in Ottumwa, Iowa, on September 8, 1954. She received the habit and her name in religion, Sister Mary Claudellen, after both parents, the following summer. She professed vows of poverty, chastity and obedience on July 26, 1957, and made final vows three years later on July 26, 1960. Surviving classmates are Srs. Dolores Schuh, Maggie Bennett and Justine Denning. She kept her religious name until her death, insisting on "Claudellen," not just "Claude."
While in the novitiate, Sr. Claudellen studied at Ottumwa Heights College. She completed a BA in education by attending classes in the summers at Marycrest College in Davenport.
After profession, Sr. Claudellen was assigned to teaching grades three through six from 1957 through 1976, the first four years in Iowa. She was then transferred to the Great Falls diocese. The first three years were in Glendive in eastern Montana, where she taught sixth grade, as well as physical education. She then taught at St. Joseph School in Great Falls for three years.
Sr. Claudellen got a taste of Minnesota, too, as she was assigned to St. Austin's School in Minneapolis for one year before returning to Montana. She made it to hometown, Lewistown, teaching fifth grade for three years, then to Great Falls for three more years of fifth-grade teaching, including physical education.
In 1976 it was time for a change of work; she started as a school bus driver before transitioning to working for the Easter Seals Adult Workshop. There she supervised the wood shop.
In 1983 the Congregation President, Sister Ann Therese, called Claudellen to the important and demanding job as Coordinator at the new Humility of Mary Center in Davenport. Following the sale of the Ottumwa Heights Motherhouse and education facilities in 1979, the transition to Davenport took several years. Further, this was a brand, new building that housed a 14-bed infirmary, and several options for community living, including efficiency and one-bedroom apartments. And it had a swimming pool. Initially, the community provided all the meals, including for staff. The sisters in the infirmary were served in a dining room near their rooms.
As with any new building, there were "bugs" to work out, including fire alarms going off, seemingly without cause. Everyone heard the story about the first winter when the infirmary rooms and hall started leaking from the sprinkler system. Buckets were placed to catch the water wherever necessary; which created another hazard. It did not take long to discover that, instead of the insulation being placed between the roof and the sprinkler system, the familiar pink stuff had been placed between the system and ceilings! The claim for damages may still be in litigation as responsibility turned into a "blame game" among contractors.
In 1987 Sr. Claudellen returned to Montana where she started work as a part-time school bus driver, a job she would do for much of the time until she moved back to Iowa in 2015. She was a "no-nonsense" driver. She was quoted in a newspaper article, "I learned you don't argue with kids. You tell 'em, 'This is the way it's going to be. These are the rules.' Sometimes you're not popular, but that's OK." On one route she had 45 "jabbering teens" and she compared the sound to a "mall on the day after Christmas, without the Muzak…They're sitting in the same seat with each other and talking like they're across the street from each other…it's bedlam." When necessary, she might use a warning from the chrome coach whistle within reach.
In between the morning and afternoon drives, Sr. Claudellen worked full-time in the central processing and distribution department of Benefis West Hospital. She was responsible for an inventory of up to 1,500 items, and one can guess she knew how many and where they were, or supposed to be, at any time. Altogether she worked at the hospital for 22 years, until 2010. She was a favorite because she shared an egg-less chocolate cake on many Fridays.
In October 2004 Sr. Claudellen celebrated 50 years as a CHM with Montana classmates Srs. Dolores Schuh and Maggie Bennett. She hosted several CHMs in October of 2014 when the community celebrated 150 years of being in the United States. Her home was like a museum to her visitors. There were family pictures on the walls and shelves, along with crafts and collected items from walks in the woods and along shorelines. Returning from the anniversary celebration in Lewistown, she took a detour so her guests could view remnants of hay-bale sculptures that were still in the fields.
In 2015 Sr. Claudellen reluctantly returned to Iowa for good, having been the last sibling following Bette's death the year before. The family presence continues in sight and memories. The Pentecost family was well known in Lewistown for having a fireworks stand and selling them to many in the area. Bette and Claudellen were the last to operate the business and they hated giving it up. They celebrated 50 years of operation in 1996.
The family also made the most of the local fruit, chokecherries, which were gathered by the bushel and turned into wine, jelly and syrup. Whenever Sr. Claudellen returned to Montana, she was sure to come back with jelly and syrup. You were "special" to her if you received any of it. The whole community enjoyed the syrup for ice cream topping.
Any new resident at the Center was invited to see the video that Sr. Claudellen had of her nephew Steven Gordon. He was one of 84 pianists who played Gershwin's "Rhapsody in Blue" at the Opening Ceremony of the 1984 Olympic games in the Los Angeles Coliseum. Steven and his wife, Nadya, were professional pianists who toured the country, pulling their pair of hand-crafted pianos, each worth $70,000, with them.
It was not unusual to hear a little of the early Center history from its first Coordinator too. The summer heat in the Light Court on the lower level prompted one annual story. In the beginning, there had been shades on the huge windows that reduced the light, and the associated heat there, during the hot Iowa summers. Another was about the HVAC system which did operate as efficiently as expected in some areas of the building. She brought builders back on-site to re-install some of it. She explained that sometimes pipes accumulated dust in them from sitting on the ground before being installed. She insisted they be removed, blown out, and re-installed.
Sr. Claudellen was also known for her remedies. Have back or leg pain? Walk backward in the hall, several minutes at a time, and repeat. Some sisters found that it really worked after a few days. At the slightest cough, she literally would slip a cough drop to you. Vinegar was a universal remedy and beet juice or sugar were suggested for wounds.
As Sr. Claudellen's sight and hearing declined over the years, she adapted accordingly. She had enjoyed playing cribbage with Sr. Regina Mary, for as long as possible. Individual sisters read the bulletin board announcements to her, as well as letters and other correspondence. She got books on tape, especially westerns, and listened to them regularly. IT Director Chris Austin assisted her in calls, via ZOOM, with her niece, LaVonne, and other family and friends. She prayed the rosary throughout the day. She wasn't much for eating meat but she could tell you how to dress a deer in the field and prepare the venison so you hardly knew it was wild.
Having injured her shoulder in a fall earlier in the summer, Claudellen's condition led to placement in the Clarissa C. Cook Hospice House in Bettendorf. She improved somewhat and could communicate with visitors and by phone with LaVonne and other relatives at times. She left us soon after the sun rose on a beautiful Saturday, August 12, with associate Laurie Gibson praying with her.
Those of us living at Humility of Mary Center are getting accustomed to someone else letting the blinds down in the dining room, after supper in the evening.
Sister Mary Rehmann, CHM


Video produced in 2013.
A native of Lewistown, Montana, Sr. Claudellen Pentecost is the daughter of Ida E. (Crowley) and Claude Pentecost. She entered the Congregation of the Humilty of Mary in 1954 and made her first vows in 1957.
Sr. Claudellen earned a BA in elementary education at Marycrest College. She taught school in Iowa in Des Moines, Ottumwa and Centerville. In Montana she taught in Glendive, Lewistown and Great Falls. She also taught in Minneapolis, Minnesota. One of her favorite times in the CHM Community was working for four years as coordinator of the Humility of Mary Center in Davenport. She worked for 15 years in the central processing and distribution department of Benefis West Hospital in Great Falls and several years as a school bus driver.