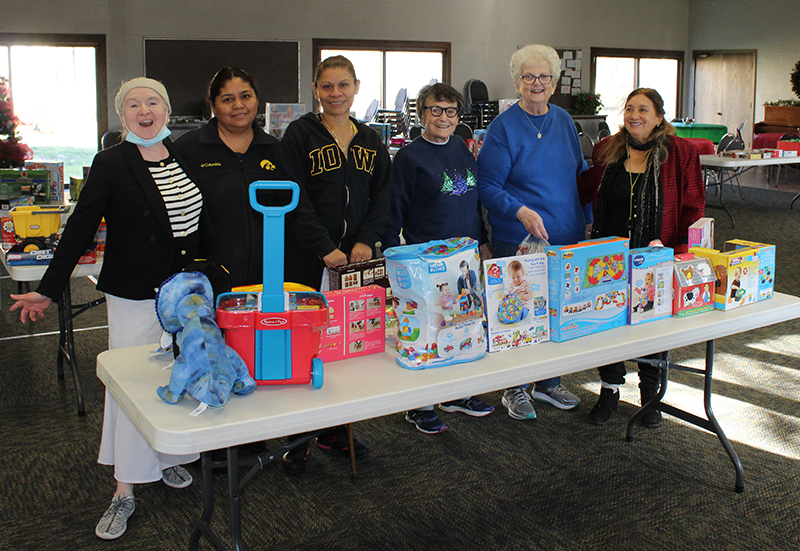 Volunteers at First Presbyterian Church in Mt. Pleasant gather with Sisters Maggie (in navy blue) and Mary Bea (in royal blue) as they organized the hundreds of gifts for families effected by the ICE raid.
In May of 2018 U.S. Immigration and Customs Enforcement officers raided a manufacturing facility in Mount Pleasant, Iowa. Thirty-two adult males were arrested and detained. Sr. Mary Bea Snyder and others headed to Mount Pleasant to offer whatever assistance they could. She met with the local First Presbyterian Church Pastor, Trey Hager, and other church representatives. She learned the stories of the wives and children who were now missing their family member as well as a steady income source and facing the uncertainty that comes with. She and Sr. Maggie Bennett began taking supplies including food and other staples to Mt. Pleasant.
Sr. Mary Bea realized the difficulties families of those who were detained or deported in the ICE raid would face at Christmas time. Through a combination of her own money and money she raised, she had enough to buy gifts for the children. Along with Sr. Maggie, she went shopping and set up a distribution site to distribute the gifts. "I know that the families were really grateful and it made a difference to see that there were people who cared. I felt so blessed to be able to do it. It just brought a deeper meaning to Christmas for me." Sr. Bea continues to collect donations and distribute Christmas gifts to the families and their children in Mt. Pleasant each year. Read this entire article in the Spring 2022 Issue of The Flame. Find it here...
Sr. Mary Bea explains her ministry and reactions to it.