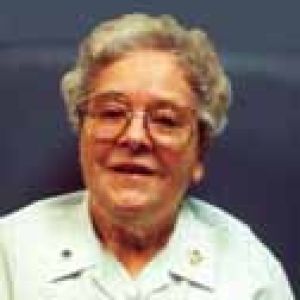 Sister Thomasine Muller
CHM Sisters and Associates welcome family members and friends of Sister Thomasine Muller as we gather to remember and celebrate sister's life, `In 1954 Antoinette Potier, the foundress of the Sisters of Humility, opened her home as a school and …. workshop for young girls of Dommartin, France.` Search and Service, page 3. Sister Thomasine definitely lived out the CHM charism when she welcomed little children from West Des Moines into her apartment for care while their mothers were working......Geraldine Mae Muller was born on May 4, 1920, to Marie Parsons Muller and Francis J. Muller in Waterloo, Iowa. Her parents and brother, Donald, precede her in death. Her sister, Maxine Beener and husband Robert, are here this evening as well.
Geraldine attended St. Mary's grade and high school in Waterloo before entering the Congregation of the Humility of Mary on September 8, 1943, she received the habit and her religious name, Sister Mary Thomasine, on July 12, 1944, and professed first vows on July 17, 1956, the Feast of Our Lady of Humility......Except for a few years at St. Mary's, Marshalltown, Iowa; and Sacred Heart, Glendive, Montana, Sister's ministry was based in the Des Moines Diocese. Her first mission was at Dowling High School in Des Moines where she provided many supportive services to the priest, faculty and retired priests taking care to see that each was given special attention. Some of her most enjoyable years were spent cooking for the sisters in Glendive, Montana. Then it was back to Iowa to cook for the sisters at All Saints in Stuart, Iowa, and St. Theresa in Des Moines and St. Mary's, Marshalltown before returning to Dowling in West Des Moines......Sister was always eager to help small children just as mother Madeleine Poitier had done in France so many years ago. Beginning in 1978 and continuing for ten years, Sister Thomasine took care of children either in her own home or in their homes. She even had a wading pool for use on hot summer days. I am sure there was never a shortage of homemade cookies on hand. At Christmas time, she and Sister Anastasia Rose made gingerbread houses for participants in the Anawim Housing Project managed by Sisters Donna Schmitt and Cathy Talarico. The sisters also contributed gingerbread creations to benefit `Homes with Heart.` Hundreds of children have experienced the loving care of Sister Thomasine......Sister Joan Le Beau worked ad lived with Sister Thomasine most of their religious life. Sister frequently accompanied Sister Joan to Chicago to visit Joan's family. They would always stop here at the Center to visit the sisters here and, of course, visit the boat. Word has it that they were often lucky. Sister Joan has always been a helpful, caring companion. She gave Thomasine a "puzzle rug" which enabled Thomasine to work on her jigsaw puzzle and then roll it up until she was ready to work on it again. When Sister lived at Bishop Drum, they often went out to eat......Her novitiate classmates remember her as a quiet and caring person. She did enjoy her lift when the community began counting rank from age rather than time of entrance. Rank was how we determined who was first and last in various activities. Age was to her advantage and she enjoyed it......Sister Thomasine listened to the Spirit as she diligently and quietly did the work she was called to do. Again the words form Search and Service seem to reflect Sister Thomasine's life, `Through her trust in god, commitment to justice and love, patience and courage in the face of each day, and joy in the midst of constantly changing demands, she gave witness that God's in the world, calling all persons to loving unity.` (Search and Service, 14).....
Prepared by Sister Micheline Curtis, CHM,August 23, 2009