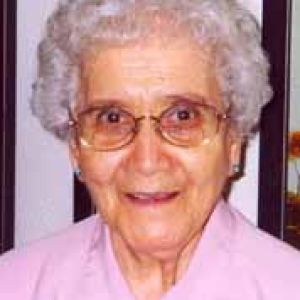 Sister Teresa Gomez
Tribute for Sister Teresa Gomez
September 6, 1915 – October 27, 2010

We are gathered here to celebrate and remember the life of Sister Teresa Gomez. When I think of Sister Teresa I think of a soft voice, little children, the poor and forgotten, and the elderly. These are directly tied to sister's early life. It seems to me that the following words from the Gospel of St. Luke provide food for thought. Jesus says to his apostles; `Whoever receives this child in my name, receives me, and whoever receives me receives the one who sent me. For the one who is least among all of you is the one who is the greatest.`
Maria Teresa Gomez was born north of Mexico City in Salvatierra, Mexico on September 6, 1915, to Augustin C. Gomez and Maria Luz Martinez Gomez. Her father was an accomplished musician who also worked in a factory to support his growing family. She rightfully inherited her concern for the poor from her father as he began a newspaper to inform campesinos of their rights. She was always proud of the fact that he was on the side of the poor.
Her parents and siblings Augustin Jr., James, Alfred, Stephanie Gomez Rice, and Lucille Gomez Marinovic are all deceased. She is survived by several nieces and nephews (We welcome those of you who are able to be with us this evening).
When Maria Teresa was eleven months old her father died very suddenly, and her mother moved with the children to Omaha, Nebraska, where she had friends. Later her mother contracted tuberculosis and was hospitalized which meant that Maria and her sisters were sent to live in the Good Shepherd Home in Omaha. Her mother was taken back to Mexico and died without ever seeing her children again.
While at the Good Shepherd Home young Maria Teresa became a friend of Catherine Hunter the future Sister Mary Lorraine who entered our community in 1930.
In 1931, Maria Teresa at age 16 entered the Congregation of the Humility of Mary, received the habit and her religious name Sister Mary Agnes Clare in 1932, and professed first vows in 1934. She finished high school while in the novitiate and completed a two year college program at Ottumwa Heights Junior College in Ottumwa, Iowa. Sister asked to work with children in our CHM orphanages but was sent to college to earn a BA in elementary education from St. Ambrose College in Davenport, Iowa, followed by an MA in education from George Peabody College in Nashville, Tennessee, and much later an education specialist degree from the University of New Mexico in Albuquerque, New Mexico. In addition she spent a summer at Marquette University, Milwaukee, Wisconsin, Manhattan College of the Sacred Heart in New York, and Lavel University in Quebec, Canada.
Sister's ministry began in 1936 at St. Patrick's demonstration school in Ottumwa where she taught kindergarten. She later moved to St. Alphonsus in Davenport to do the same. In 1941, she began teaching classes in elementary education at Marycrest College in Davenport continuing until 1965. After that she was instrumental in getting the Headstart Program started in Davenport and worked with other government reading programs. In the early and mid-1960s she was in charge of young CHM sisters in the juniorate. Wishing to return to an area where she would meet and work with people of her Hispanic heritage, she began teaching teachers at the University of New Mexico in Albuquerque. She later began classes in a PhD program, but had to leave that program due to effects resulting from a serious automobile accident. She did receive a Specialist Degree in Child Development from the University New Mexico. She put this knowledge to good use as she became a live in babysitter for a family in California. After spending three years as a site manager for the Lend a Hand in Davenport, Albuquerque called again and she returned to work with a variety of agencies which had as their main focus aiding the poor. At one time she took doughnuts from a shop where they would just be discarded and distributed them to centers that were very glad to receive them. With her band of merry volunteers which included, at least two of our CHM associates, she made coats and other needed items available to street people.
Sister Teresa returned to Davenport in 1991 and volunteered at Madison Elementary School, CASI, Humility of Mary Housing, and Humility of Mary Center. In 1996, Sister Teresa received recognition for her volunteer work at the Center for Active Seniors from the Governor of Iowa. For over sixty years Sister was involved in one way or another with youngsters or oldsters providing them with essential skills and services. Whatever her ministry it was carried out without fanfare or attention to herself. She treated the most lowly and needy with dignity.
The life of Sister Teresa Gomez has many possible lessons for those of us who are still on the journey. Included in Sister Joan Sheil's prepared display on the table in the community room among the pictures you will see a copy of a letter written by Sister Teresa addressed to the sisters and staff who cared for her during the last days of her journey here on earth. In Sister's folder there was a small slip of paper cut out of a Marycrest publication and put there by a previous archivist which provides a fitting conclusion. It was written and contributed by Janet McGonegle Ertl, class of 1960.
`When I think of Marycrest, I fondly recall my first teacher, Sister Mary Agnes Clare. She was my kindergarten teacher from Marycrest in 1943 and my college instructor in elementary education classes from 1956-1960. Her gentle perfection served as an example to me as a child and as a young woman. I appreciate even more today her dedication, her beauty, and her humility.
Sister Micheline Curtis
November 3, 2010