Pictured l-r: Sr. Candida, Sr. Leocardia, Fisherman Dean, Sr. Brigitte and Sr. Mary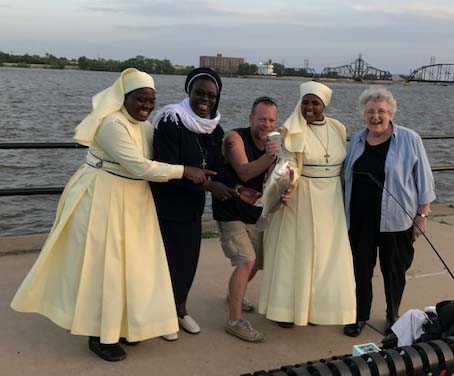 Sounds of laughter rang through the community room when Sister Candida Massabo returned to Humility of Mary Center (HMC) to share the good news of her graduation. She received her MSW at the University of St. Francis in Joliet, IL, on May 6. Her honors included a 4.0 GPA and a request for her to write and present the closing benediction at the university graduation.
Sr. Candida had lived with the sisters of the Congregation of the Humility of Mary (CHM) during her time of study at St. Ambrose University in Davenport, IA, where she received her BA degree in psychology. During those years, the CHM sisters were her "mothers", chauffeurs, tutors, editors, and more. They gave much, as did Sr. Candida, during that time. Presently, Sr. Candida has been accepted in the nursing program at St. Francis.

Sr. Brigitte Ngango, founder and Superior General of the very young St. Maria Goretti Sisters in Tanzania, Africa, to which Sr. Candida belongs, and Candida's sibling, Sr. Leocardia Massabo, a member of the Congregation of Sisters of Charity of Saint Charles Borromeo, came for the graduation and spent a month in the states. An opportunity to visit with these African sisters and to learn about their life and ministry was a blessing at HMC. Sr. Brigitte, spoke passionately about the reasons for founding a new community and the ministry they have advanced of serving abused girls and women. In addition, Sr. Leocardia shared interesting information about the ministries of her congregation, centered in the Netherlands.
One windy night, while these women visited Davenport, I took them to see the Mississippi River which they had studied in their classes in Africa and were anxious to experience. While strolling along the shore they learned how a local fisherman, Dean, spent his free time enjoying his hobby. When he demonstrated his skill at bringing in a 2-pound perch, the sisters were thrilled. In fact, the gentleman said the experience with these religious women and his "fisherman's luck" was something he would remember for the rest of his life!